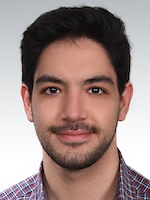 Can Cebeci
PhD Student
EPFL - IC - DSLAB
INN 331
Station 14
1015 Lausanne, Switzerland
can.cebeci@epfl.ch
---
I'm a third year PhD student in Dependable Systems Lab. My research interests center around Formal Methods and Computer Systems. Most recently, I have been working on designing practical abstractions and workflows for low-effort verification low-level systems code. Ping me if you'd like to chat about symbolic execution, auto-active verification, or separation logic!
Outside of the lab, you can find me running events for the computer science PhDs' association (EPIC), where I currently serve as the president, or on stage with ET Cetera. I also enjoy board games, musical theatre, and fantasy fiction.
Before joining EPFL, I received a BSc in Computer Science from Bilkent University, Turkey.
---
Teaching
---
Mentoring
I have had the pleasure of mentoring (or co-mentoring) internships, theses, and semester projects carried out by the following students. Please reach out at projects@dslab.org if you'd like to collaborate.
Stephane Selim (Fall '23)
Simon Henniger (Fall '23)
Yi Rong (Summer '23)
Basant Elhussein Abdelaal (Summer '23)
Adrien Bouquet (Spring '23)
Loïc Montandon (Spring '22)